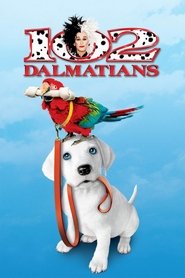 102 Dalmatians – Τα 102 Σκυλιά της Δαλματίας
Meet Two Unlikely Heroes With A Bone To Pick.
Oct. 07, 2000
USA, UK
100 Min.
G
Synopsis
Η Κρουέλα Ντε Βιλ βγαίνει από τη φυλακή μετά από μια θεραπεία που απ`ότι φαίνεται είχε αποτελέσματα. Δεν είναι η Κρουέλα που ξέραμε, πλέον αγαπάει τα σκυλιά. Αυτό όμως δεν θα κρατήσει για πολύ, καθώς οι χτύποι του Μπιγκ Μπεν αντιστρέφουν τη θεραπεία της.
Get ready for a howling good time as an all new assortment of irresistible animal heroes are unleashed in this great family tail! In an unlikely alliance, the outrageous Waddlesworth… a parrot who thinks he's a Rottweiler… teams up with Oddball… an un-marked Dalmation puppy eager to earn her spots! Together they embark on a laugh-packed quest to outwit the ever-scheming Cruella De Vil
Original title
102 Dalmatians
IMDb Rating 4.9 30,644 votes
TMDb Rating 5.3 596 votes