Synopsis
2ldk είναι η καταχώρηση στην Ιαπωνία για διαμέρισμα με δύο ξεχωριστές κρεβατοκάμαρες, και κοινό σαλόνι, τραπεζαρία και κουζίνα. Σε ένα τέτοιο σπίτι λοιπόν μένουν δύο γυναίκες ηθοποιοί, η Nozomi και η Lana, οι οποίες ανήκουν στο ίδιο πρακτορείο και ανταγωνίζονται για το ρόλο της πρωταγωνίστριας στην ταινία Yakuza wives, πιστεύοντας πως θα αποτελέσει αφετηρία για μια μεγάλη καριέρα στο χώρο του κινηματογράφου.Οι διαφορές ανάμεσα στις δύο είναι φανερές δια γυμνού οφθαλμού, μιας και η Nozomi είναι μια απλή κοπέλα, από ένα μικρό νησί, με μέτρια εμφάνιση, αρκετά συνεσταλμένη, η οποία αγαπάει το θέατρο και έχει μετακομίσει στο Τόκιο, με σκοπό να φτιάξει τη ζωή της, ενώ η Lana διαθέτει εμφάνιση φωτομοντέλου, έχει μεγάλη επιτυχία στους άντρες, και παρουσιάζεται αδίστακτη μπροστά στην επίτευξη των στόχων της.Το μόνο κοινό που μοιράζονται είναι πως και οι δύο κάνουν πραγματικά άσχημες σκέψεις εκατέρωθεν, ενώ παράλληλα φέρονται μεταξύ τους, με τυπική έστω ευγένεια, τουλάχιστον στην αρχή του φιλμ. Γιατί όσο εξελίσσεται η πλοκή, η ένταση όλο και μεγαλώνει και αφού ξεκινάνε με κάποιες φωνές, στη συνέχεια η κατάσταση εκτραχύνεται με γεωμετρική πρόοδο.
Nozomi and Lana share an apartment in Tokyo. They have both auditioned for the same role in a movie, and know that the shortlist has been cut down to just the two of them. As they wait the night before finding out who will get the role, their personality clashes erupt into an all-out battle.
Χρειάζεστε βοήθεια?  Επισκεφθείτε το Κέντρο βοήθειας.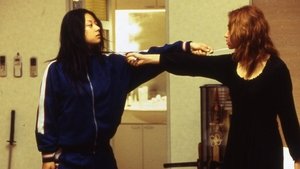 IMDb Rating 7.0 3,047 votes
TMDb Rating 7.1 39 votes
Director
Cast