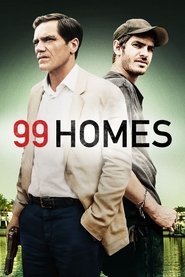 99 Homes – 99 Σπίτια
Greed is the only game in town.
Oct. 09, 2014
USA
112 Min.
R
Synopsis
Στην ταινία "99 Σπίτια", ο χαρισματικός και αδίστακτος επιχειρηματίας, Ρικ Κάρβερ (Μάικλ Σάνον) κερδίζει περιουσίες, επανακτώντας σπίτια και τζογάροντας στην αγορά ακινήτων και το Χρηματιστήριο. Όταν θα κάνει έξωση στον Ντένις Νας (Άντριου Γκάρφιλντ), μόνο πατέρα που προσπαθεί να φροντίσει την μητέρα και τον μικρό του γιο, ο Νας είναι τόσο απεγνωσμένος να βρει μια λύση, για να παρέχει τα απαραίτητα στην οικογένεια του, που πιάνει δουλειά για τον Κάρβερ – τον άνθρωπο που τον εκδίωξε από το σπίτι του. Ο Κάρβερ υπόσχεται στον Νας ένα τρόπο για να ξανακερδίσει το σπίτι του και να μπορέσει να παρέχει ασφάλεια στην οικογένεια του, σταδιακά όμως τον παρασύρει σε ένα lifestyle πλούτου και γκλαμ. Υπό τις εντολές του Κάρβερ, ο Νας υποχρεώνεται να κάνει έξωση σε οικογένειες από τα σπίτια τους. Καθώς ο Νας πέφτει όλο και βαθύτερα στον ιστό του Κάρβερ, αρχίζει να συνειδητοποιεί ότι η κατάσταση γίνεται ολοένα και πιο βίαιη και επικίνδυνη από ότι μπορούσε να φανταστεί.
After his family is evicted from their home, proud and desperate construction worker Dennis Nash tries to win his home back by striking a deal with the devil and working for Rick Carver, the corrupt real estate broker who evicted him.
IMDb Rating 7.1 27,125 votes
TMDb Rating 6.8 466 votes