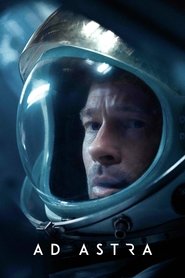 Ad Astra
The answers we seek are just outside our reach.
Sep. 17, 2019
USA
124 Min.
PG-13
Synopsis
Ο αστροναύτης Ρόι ΜακΜπράιντ ταξιδεύει στα πέρατα του ηλιακού συστήματος για να βρει τον χαμένο πατέρα του και να διαλευκάνει ένα μυστήριο που απειλεί την επιβίωση του πλανήτη. Το ταξίδι του θα φέρει στην επιφάνεια μυστικά που θέτουν υπό αμφισβήτηση τη φύση της ανθρώπινης ύπαρξης και τη θέση μας στο σύμπαν.
Astronaut Roy McBride must undertake a harrowing journey to the edge of our solar system when his long-lost scientist father seems to have resurfaced despite having been declared dead many years ago. His reappearance appears to be connected to a series of mysterious explosions and a top secret military project. As McBride makes his way across a series of increasingly dangerous outposts on the Moon and Mars, forces converge to stop him from finding answers while another impending explosion threatens to destroy life as we know it.
IMDb Rating 7.0 53,460 votes
TMDb Rating 6.2 709 votes