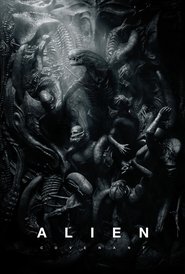 Alien: Covenant – Προμηθέας 2
The path to paradise begins in hell.
May. 09, 2017
GB. US.
123 Min.
R
Synopsis
Με προορισμό έναν απομακρυσμένο πλανήτη σε ένα μακρινό σημείο του γαλαξία, το πλήρωμα του αποικιακού πλοίου Covenant νομίζει ότι ανακαλύπτει έναν αχαρτογράφητο παράδεισο, αλλά στην πραγματικότητα πρόκειται για έναν σκοτεινό, επικίνδυνο κόσμο – ο μόνος κάτοικος του οποίου είναι ο «συνθετικός» Ντέιβιντ (Μάικλ Φασμπέντερ), επιζών της καταδικασμένης αποστολής Προμηθέας.
Bound for a remote planet on the far side of the galaxy, the crew of the colony ship Covenant discovers what they think is an uncharted paradise, but is actually a dark, dangerous world — whose sole inhabitant is the "synthetic" David, survivor of the doomed Prometheus expedition.
Original title
Alien: Covenant
IMDb Rating 6.9 61,024 votes
TMDb Rating 6 725 votes