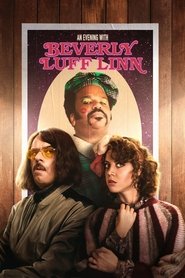 An Evening with Beverly Luff Linn
A love triangle with too many sides.
May. 25, 2018
UK
108 Min.
R
Synopsis
Η Aubrey Plaza (Parks and Recs), εν προκειμένω υποδύεται την 'Lulu Danger', μία γυναίκα της οποίας ο γάμος έχει πάρει την κατιούσα, με το ζήτημα να γίνεται ακόμη χειρότερο όταν ο πονηρός σύζυγός της, Shane Danger (Emile Hirsch) την απολύει από την επιχείρηση καφέ που έχουν. Η ηρωίδα όμως ενθουσιάζεται όταν βλέπει το διαφημιστικό από ένα προσεχές event που θα γίνει στην πόλη και λέγεται "An Evening With Beverly Luff Linn; For One Magical Night Only" στο οποίο παρουσιαστής είναι ένας μυστηριώδης άνδρας (Graig Robinson) από το παρελθόν της.
Όταν ο Shane και η αδέξια κουστωδία του κλέψουν την ταμειακή από τον 'Adjay', τον θετό χορτοφάγο αδερφό της 'Lulu', τότε ο Colin (Jemaine Clement) ένας ειδικός έρχεται να ερευνήσει την υπόθεση και να φέρει πίσω τα κλοπιμαία. Ωστόσο, η 'Lulu' δράττεται της ευκαιρίας από το όλο μπέρδεμα που έχει προκύψει να το σκάσει για να αναζητήσει τον άνθρωπο που την γοήτευσε τόσο πολύ, και από εκεί και πέρα τα πράγματα μπλέκονται ακόμη περισσότερο, με τα ευτράπελα και τα περίεργα να διαδέχονται το ένα το άλλο!
Lulu Danger's unsatisfying marriage takes a turn for the worse when a mysterious man from her past comes to town to perform an event called "An Evening with Beverly Luff Linn: For One Magical Night Only."
Original title
An Evening with Beverly Luff Linn
IMDb Rating 5.7 1,868 votes
TMDb Rating 6.3 39 votes