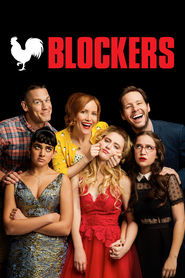 Blockers – Κοκομπλόκο
Teens out to have fun. Parents out to stop it.
Mar. 14, 2018
United States
102 Min.
R
Synopsis
Τρεις γονείς ανακαλύπτουν κατά τύχη ότι οι κόρες τους έχουν δώσει όρκο να χάσουν την παρθενιά τους τη βραδιά του χορού αποφοίτων. Έτσι, ενώνουν τις δυνάμεις τους και οργανώνουν για κρυφή ολονύχτια επιχείρηση που θα αποτρέψει το μεγάλο κακό.
When three parents discover their daughters' pact to lose their virginity at prom, they launch a covert one-night operation to stop the teens from sealing the deal.
IMDb Rating 6.3 38,154 votes
TMDb Rating 6.1