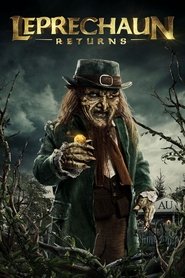 Leprechaun Returns
Be careful what you wish for.
Dec. 11, 2018
USA
92 Min.
No Rated
Synopsis
Το Λέπρεκον επιστρέφει για άλλη μια φορά, και ξυπνάει από τις κοπέλες μιας φοιτητικής αδελφότητας οι οποίες κάνουν το λάθος να χρησιμοποιήσουν το πηγάδι του ξωτικού για να πάρουν νερό. Το φονικό Λέπρεκον στρέφεται εναντίον των κοριτσιών και όχι μόνο. Ένα νέο λουτρό αίματος ξεκινά!
A group of unwitting sorority sisters accidentally awaken the serial-killing Leprechaun after they build a sorority house on his hunting grounds.
Original title
Leprechaun Returns
IMDb Rating 5.7 331 votes
TMDb Rating 6 126 votes