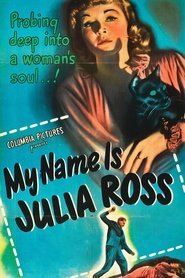 My Name Is Julia Ross
She went to sleep as a secretary ... and woke up a madman's "bride"!
Nov. 08, 1945
USA
65 Min.
APPROVED
Synopsis
Η Τζούλια Ρος καταφέρνει να πιάσει δουλειά μέσω πρακτορείου, ως γραμματέας σε μια πλούσια χήρα, την κα Χιουζ, και πηγαίνει να μείνει σπίτι της. Δύο μέρες έπειτα, ξυπνάει σε διαφορετικό σπίτι, φορώντας διαφορετικά ρούχα και με νέα ταυτότητα. Της λένε ότι είναι η νύφη της κυρίας Χιουζ και πως έπαθε νευρικό κλονισμό. Σύντομα, μαθαίνει πως υποτιθέμενος της σύζυγος και γιος της κυρίας Χιουζ έχει δολοφονήσει τη σύζυγο του κι έχει ξεφορτωθεί το πτώμα. Στόχος του τώρα, μαζί με τη μητέρα του, είναι να περάσουν την Τζούλια ως σύζυγο… και μετά να την ξεφορτωθούν κι αυτήν, κάνοντας το να μοιάζει με αυτοκτονία.
Julia Ross secures employment, through a rather nosy employment agency, with a wealthy widow, Mrs. Hughes, and goes to live at her house. 2 days later, she awakens – in a different house, in different clothes, and with a new identity. She's told she is the daughter-in-law of Mrs. Hughes, and has suffered a nervous breakdown. I'd Julia really 'Julia', or, is it true, that she's lost all memory of who she is?
Original title
My Name Is Julia Ross
IMDb Rating 7.2 1,371 votes
TMDb Rating 6.6 16 votes