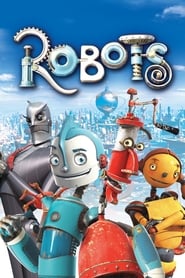 Robots
The Biggest Comedy Ever Assembled!
Mar. 10, 2005
United States
91 Min.
TV-G
Synopsis
Τα ρομπότ από την πρώτη στιγμή που εμφανίστηκαν αντιμετωπίστηκαν ως μια ελπίδα για την διευκόλυνση της ζωής των ανθρώπων. Πως θα ήταν όμως ένας κόσμος φτιαγμένος αποκλειστικά από ρομπότ, χωρίς ούτε έναν άνθρωπο στον ορίζοντα; Σε μια τέτοια πολιτεία καταφτάνει μετά από ενθάρρυνση του πατέρα του, ο Rodney Copperbottom ένα πολυμήχανο ρομπότ που έχει μεγάλα σχέδια για το μέλλον. Θέλει να γνωρίζει τον μεγάλο εφευρέτη Big Weld που όμως μοιάζει να έχει χάσει το δρόμο του, παγιδευμένος στα σχέδια του δολοπλόκου Ratchet. Φτάνοντας όμως στην πόλη συναντά τον Fender ένα ιδιότυπο ξεναγό στην χαώδη μεγαλούπολη. Μια φιλική σχέση θα αναπτυχθεί μεταξύ τους καθώς τα χέρια, τα πόδια και το κεφάλι του Fender έχουν την τάση να πέφτουν από το μηχανικό του κορμί και ο Rodney έχει τον τρόπο να τα βάζει στη θέση τους. Σύντομα όμως ο Rodney θα γνωρίσει και το ρομποτικό έρωτα στο πρόσωπο της τσαχπίνας Cappy.
Rodney Copperbottom is a young robot inventor who dreams of making the world a better place, until the evil Ratchet takes over Big Weld Industries. Now, Rodney's dreams – and those of his friends – are in danger of becoming obsolete.
IMDb Rating 6.3 117,842 votes
TMDb Rating 6.3 3,000 votes