Η ταινίες και σειρές θα επανέλθουν μετά το Πάσχα έως τότε.... Καλή Ανάσταση σε όλες και όλους με αγάπη υγεία και πλέον άπειρη υπομονή!
Video Sources
296 Views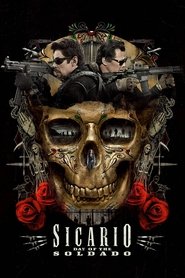 Η ταινίες και σειρές θα επανέλθουν μετά το Πάσχα έως τότε.... Καλή Ανάσταση σε όλες και όλους με αγάπη υγεία και πλέον άπειρη υπομονή!
Synopsis
Ο πόλεμος κατά των ναρκωτικών στα σύνορα μεταξύ ΗΠΑ και Μεξικού κλιμακώνεται καθώς τα καρτέλ έχουν ξεκινήσει τρομοκρατικές ενέργειες παράνομου εμπορίου στα σύνορα των ΗΠΑ. Για να κερδίσει τον πόλεμο, ο ομοσπονδιακός πράκτορας Matt Graver συνεργάζεται εκ νέου με τον μάρτυρα Alejandro.
Agent Matt Graver teams up with operative Alejandro Gillick to prevent Mexican drug cartels from smuggling terrorists across the United States border.
Original title
Sicario: Day of the Soldado
IMDb Rating 7.3 25,296 votes
TMDb Rating 6.8