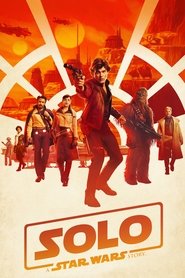 Solo: A Star Wars Story
Never tell him the odds.
May. 15, 2018
United States
135 Min.
PG-13
Synopsis
Μέσα από μια σειρά παράτολμες περιπέτειες σε έναν σκοτεινό και επικίνδυνο εγκληματικό υπόκοσμο, ο Han Solo γίνεται φίλος με τον πελώριο μελλοντικό του συν-πιλότο, τον Chewbacca και συναντά τον περιβόητο τζογαδόρο Lando Calrissian, σε ένα ταξίδι που θα καθορίσει την πορεία ενός από τους πιο αναπάντεχους ήρωες του σύμπαντος που λέγεται Star Wars.
Through a series of daring escapades deep within a dark and dangerous criminal underworld, Han Solo meets his mighty future copilot Chewbacca and encounters the notorious gambler Lando Calrissian.
Original title
Solo: A Star Wars Story
IMDb Rating 7.1 117,895 votes
TMDb Rating 6.6 5,232 votes