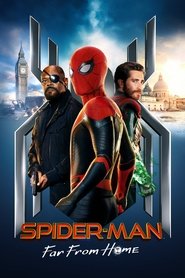 Spider-Man: Far from Home – Spider-Man: Μακριά από τον Τόπο του
It's time to step up.
Jun. 28, 2019
USA
129 Min.
PG-13
Synopsis
Ο Πίτερ Πάρκερ επιστρέφει με το Spider-Man: Μακριά Από τον Τόπο του, το επόμενο κεφάλαιο της σειράς ταινιών του Spider-Man. O φιλικός και παιδί-της-διπλανής-πόρτας υπερήρωας αποφασίζει να ακολουθήσει τους φίλους του Ned, MJ και την υπόλοιπη «τάξη» σε διακοπές στην Ευρώπη. Αν και τα σχέδια του Πίτερ είναι να αφήσει για λίγο πίσω του τις υπερηρωικές του ενασχολήσεις, ξαφνικά θα χαλάσουν όταν θα χρειαστεί να βοηθήσει τον Nick Fury και μαζί να ξεσκεπάσουν το μυστήριο επιθέσεων περίεργων πλασμάτων, που προκαλούν το χάος στην ήσυχη ήπειρο.
Peter Parker and his friends go on a summer trip to Europe. However, they will hardly be able to rest – Peter will have to agree to help Nick Fury uncover the mystery of creatures that cause natural disasters and destruction throughout the continent.
Original title
Spider-Man: Far from Home
IMDb Rating 7.9 161,392 votes
TMDb Rating 7.5 7,270 votes