Synopsis
Γυρνάει από πόλεμο… για να ξεκινήσει έναν άλλον.
"Τεράστια όπλα, τεράστια μπράτσα, τεράστια βυζιά, τεράστιες εκρήξεις: μια τεράστια ταινία!" Montreal Film Journal. Τρεις φορές παγκόσμιος πρωταθλητής του "WWE Smackdown" και διάσημος ράπερ, ο Τζον Σίνα κάνει το κινηματογραφικό του ντεμπούτο! Εδώ είναι ο Τζον Τρίτον, πεζοναύτης του αμερικανικού στρατού που αποστρατεύεται παρά τη θέλησή του από τον πόλεμο στο Ιράκ κι επιστρέφει σπίτι. Η περιπέτεια όμως που τον περιμένει στην πατρίδα είναι ακόμα πιο έντονη, αφού σύντομα η γυναίκα του πέφτει θύμα απαγωγής από μια αδίστακτη συμμορία. Τώρα που τα πάντα βρίσκονται στην κόψη του ξυραφιού, ο Τζον πρέπει να περάσει μέσα από φλεγόμενα βενζινάδικα, ξέφρενες καταδιώξεις με αυτοκίνητα και σαδιστικά βασανιστήρια για να σώσει τη γυναίκα του… και να γίνει ο νέος υπερήρωας ταινιών δράσης!
A group of diamond thieves on the run kidnap the wife of a recently discharged marine who goes on a chase through the South Carolinian wilderness to retrieve her.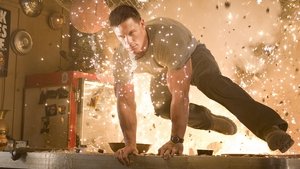 Original title
The Marine
IMDb Rating 4.7 28,317 votes
TMDb Rating 5.4 325 votes