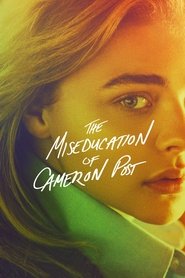 The Miseducation of Cameron Post
Come as you are.
Jul. 18, 2018
USA
92 Min.
NOT RATED
Synopsis
Δείτε το πρώτο τρέιλερ της ταινίας πιο κάτω καθώς η έξοδός της στην Αμερική και τις περισσότερες ευρωπαϊκές χώρες έχει προγραμματιστεί για τον ερχόμενο Αύγουστο.
In 1993, teenager Cameron is sent to a gay conversion therapy center after getting caught with another girl in the back seat of a car on prom night. Run by the strict and severe Dr. Lydia Marsh and her brother, Reverend Rick, the center is built upon repenting for "same sex attraction." In the face of intolerance and denial, Cameron meets a group of fellow sinners including the amputee stoner Jane, and her friend, the Lakota Two-Spirit, Adam. Together, this group of teenagers form an unlikely family as they fight to survive.
Original title
The Miseducation of Cameron Post
IMDb Rating 7.1 2,977 votes
TMDb Rating 6.9 486 votes