Synopsis
Μια φορά κι έναν καιρό, ήταν ένας ποντικός που τον έλεγαν Ράτσο. Ο Ράτσο συγκέντρωνε όλα τα χαρακτηριστικά που κάνουν τον κόσμο να θεωρεί ανεπιθύμητους τους εκπροσώπους της μεγάλης του οικογένειας. Ήταν βρόμικος και ύπουλος, κουτοπόνηρος και κακός. Καθώς προσπαθούσε να κρυφτεί από όλους όσοι τον καταδίωκαν, παγιδεύτηκε σε ένα χωράφι όπου κατοικούσαν πάπιες.
The Hans Christian Anderson tale gets a new treatment, this time with a rat trying to exploit the talents of a little ugly duckling for profit.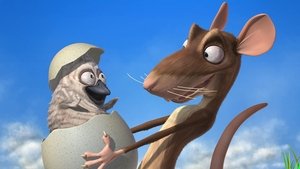 Original title
The Ugly Duckling and Me!
IMDb Rating 5.6 2,108 votes
TMDb Rating 5.4 51 votes