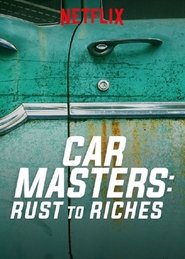 Car Masters: Rust to Riches
Η ταινίες και σειρές θα επανέλθουν μετά το Πάσχα έως τότε.... Καλή Ανάσταση σε όλες και όλους με αγάπη υγεία και πλέον άπειρη υπομονή!
Synopsis
Οι γεμάτοι ζωντάνια μηχανικοί του Συνεργείου Gotham επισκευάζουν κάθε λογής αυτοκίνητα, αναβαθμίζοντάς τα σε τέτοιο βαθμό που θεωρούνται πλέον χρυσωρυχείο.
The colorful crew at Gotham Garage overhauls an eclectic collection of cars and trucks, trading up to a showstopper they can sell for big bucks.
Original title
Car Masters: Rust to Riches
TMDb Rating 7.5 2 votes
First air date
Sep. 14, 2018
Last air date
Sep. 14, 2018
Average Duration
40 minutes